Harnessing
A community of lifesavers
WHAT IS GOODSAM ?…
Simply put, GoodSAM is a Smartphone Activated advanced emergency alerting program that rings the Ambulance Service immediately on pushing the EMERGENCY button in the program, but in the background, the APP alerts 3 of the closest GoodSAM responders to come to your aid as well as calling Triple 0 services for an Ambulance.
DOES GOODSAM REALLY MAKE A DIFFERENCE IN AN EMERGENCY ?…
Both the Government review of Ambulance Services Final Report 2015, and the Australian Resuscitation Council (ARC) 2016 say 'yes it does'.
And in the UK where the program was developed, Dr Carl Gwinnet, President of the UK Resuscitation Council explained: 'GoodSAM is a powerful tool, using modern technology, that can make a difference in an emergency situation'
GoodSAM survival statistics are also impressive. Those persons initiating a GoodSAM response statistically have clearly shown the patient to have a better chance of survival than Ambulance response alone in cardiac arrest. And the ARC 2016 guidelines suggests this outcome is further improved where a co-ordinated community organisation such as EMR GoodSAM Responders.
HOW HAS THIS COMMUNITY RESPONSE PROGRAM BEEN FUNDED ?…
At present, all costs have come directly out of the pockets of the EMR GoodSAM Responders in the Group, with total cost so far of close to $300,000. This is how dedicated the Group are to protecting, help and saving lives of the Victorian community.
HOW MUCH DOES THE GOODSAM APP COST ?…
Nothing. The GoodSAM ALERTER APP is completely free.
ON GOING TO THE SMARTPHONE APP STORE, THERE ARE TWO GOODSAM APPS. WHICH ONE DO I WANT ?…
Members of the public only want to download the GoodSAM ALERTER APP. EMR GoodSAM Responders will need to use both the GoodSAM ALERTER and RESPONDER APPs.
DOES GOODSAM COST ME ANYTHING TO USE ?…
No. Using GoodSAM is completely free.
WHEN USING GOODSAM, DO I NEED TO DIAL '000' AS WELL ?…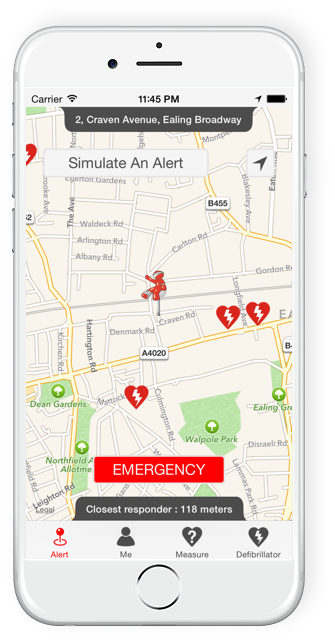 No. pushing the EMERGENCY button in the GoodSAM ALERTER APP, immediately calls '000',
WILL THE EMERGENCY BUTTON IN THE GOODSAM APP DELAY MY CALL TO '000" ?…
No. pushing the EMERGENCY button in the GoodSAM ALERTER APP immediately calls '000'. There is absolutely no delay in calling '000'. This was why the program was chosen.
The 3 closest GoodSAM Responders are simultaneously dispatched in the programs background processes of the APP, with Responders also immediately notified of the Emergency, a map of how to get to the address, medical background of the patient, and even a video of the scene, all done whilst you are talking to the Ambulance Dispatcher. This is all designed to speed up time to first defibrillation significantly, greatly improving chance of the patient surviving. Such information would also be invaluable to Ambulance Paramedics, but the Ambulance system does not yet allow for it. This is how advanced this GoodSAM App is.
And with the video, if you push the START STREAMING button on the screen as soon as possible, it allows the GoodSAM Responders to see what's going on at the scene and to even talk to you. This is of great help to Responders and you.
WHEN I PUSH THE GOODSAM ALERTER EMERGENCY BUTTON, HOW MANY GOODSAM RESPONDERS WLL COME ?…
The GoodSAM program will alert the 3 closest Responders to your call.
DOES THE GOODSAM PHONE APP ACTUALLY WORK ?…
Yes.
And in-fact GoodSAM is now the most widely used system of its type in the world due to it being user friendly, cost free to use, and the designers constantly updating it based on user feedback.
GoodSAM has been actively operating in Victoria and in the Bealiba area as part of a formal EMR – Bealiba Response Group for two years now very successfully.
ARE THERE TIMES WHEN THE GOODSAM APP DOESN'T WORK ?…
As the GoodSAM ALERTER APP uses the mobile phone system, your phone must be able to log onto a mobile phone tower. If you can ring or receive calls, the GoodSAM ALERTER APP should work without a problem.
You must also have a Smartphone to download and use the APP.
WHAT DO I DO IF THE GOODSAM APP DOESN'T WORK ?…
In the unlikely event the GoodSAM ALERTER APP does not work, simply dial '000' or '112' on your mobile for Ambulance response.
The only difference is no GoodSAM Responders will come to assist you.
WHAT IF I HAVE AN EMERGENCY, BUT I DON'T WANT GOODSAM RESPONDERS TO ATTEND ?…
Simply use the current system of calling the Ambulance Service by dialing '000' or '112' on a mobile.
It is very much your choice whether you want GoodSAM Responders to attend as well as the Ambulance Paramedics or not.
WHAT IF I HAVE PUSHED THE ALERTER, BUT NOW DON'T WANT GOODSAM TO RESPOND ?…
Simply push the CANCEL button at any time on the screen, and the GoodSAM response will be cancelled. The Ambulance will keep coming however if you have spoken to the Ambulance Dispatcher.
I LIVE IN AN AREA WITHOUT MOBILE PHONE RECEPTION, CAN I USE GOODSAM ?…
No, you must have mobile phone reception for the GoodSAM ALERTER to work.
Instead, use your home phone or another Landline and dial '000'
WHAT TYPE OF MOBILE PHONE DO I NEED ?…
To use the GoodSAM ALERTER APP at this stage, you must have a Smartphone.
GoodSAM will work on iPhones, Androids, and Window based phones.
I DON'T HAVE A SMART PHONE, CAN I STILL USE GOODSAM ?...
Since the launch of Ambulance Victoria's GoodSAM program, Triple 0 now also has access to over 2,000 existing privately registered GoodSAM Responders registered in Australia and alert them to your Triple 0 event.
WHEN I PUSH THE GOODSAM ALERTER BUTTON, HOW DO I KNOW RESPONDERS ARE COMING ?…
On your mobile screen, once you push the EMERGENCY button, it will immediately show you where and how far the closest available GoodSAM Responders are.
As each Responder accepts the emergency, the program will tell you that they are coming and you can see how far they are away. This gives great comfort to family and patients. The Responders Position is usually updated every couple of minutes so you may not see the Responders moving initially on the screen, but they will be on there way.
I CAN SEE GOODSAM RESPONDERS CLOSE BY, BUT NO-ONE IS ACCEPTING MY CALL FOR HELP ?…
Firstly don't worry, the Ambulance is still coming. GoodSAM does not replace the Ambulance response.
GoodSAM Responders are all volunteers and will do their very best to respond. But some reasons that they may not be able to respond are:
They are at work and cannot leave.
They are not able to drive to the scene as the distance is outside their response criteria.
Unavailable GoodSAM Responders should have their availability turned off (so they will not show on your screen), but sometimes we do forget. It is human nature. But the Ambulance is still coming, which is important to remember.
WHAT HAPPENS IF A GOODSAM RESPONDER DOESN'T ANSWER THEIR ALERT ?…
If a GoodSAM Responder doesn't push the confirm button within a specified time, the program automatically alerts the next closest Responder.
Remember, the GoodSAM Program alerts the 3 closest Responders. You have to be very unlucky for no one to respond if all are within the response distance criteria.
DO I STILL NEED AN AMBULANCE IF USING THE GOODSAM PROGRAM ?…
Absolutely yes. GoodSAM is not a replacement for Ambulance Paramedics.
GoodSAM Responders can often be closer to the scene than an Ambulance. In Victoria, we are lucky in that our AV Emergency Ambulance Paramedics are all qualified to Advanced Life Support standards as a minimum and undertake three years of University training. They are highly trained, extremely well skilled and very professional. GoodSAM responders cannot provide anywhere near the level of skills, treatment, drugs and care that Victorian Paramedics provide. So you still need the Ambulance to attend.
Finally, GoodSAM Responders do not transport patients to hospital. This requires an AV Emergency Ambulance.
So yes you still need an Emergency Ambulance, but GoodSAM Responders can play an important role in the multi-tiered response system as stated by the Victorian Government in their media release in January 2017.
And GoodSAM Responders can assist Paramedics in performing the basic tasks at a scene, so AV Ambulance Paramedics can perform more highly skilled procedures.
CAN THE GOODSAM RESPONDER SPEED TO MY LOCATION IN THEIR CAR ?…
No! The GoodSAM Responder is restricted by the Victorian Road rules. They cannot under any circumstances:
Go over the speed limit
Drive through a red light
Break any other road rules
However, with the spread of EMR GoodSAM Responders, the difference in breaking Road Rules and putting other lives at risk vs driving safely without risk to others, has little impact of the GoodSAM Responders time to get on scene.
WHAT QUALIFICATIONS DO EMR GoodSAM Responders HAVE ?…
All EMR GoodSAM Responders have at a minimum, all the required First-Aid Certificates, including Provide First Aid, Asthma Management, Anaphylaxis Management, and Provide Advanced Resuscitation. We are always looking out for medically trained staff, including Paramedics, District Nurses, Emergency Department Nurses, etc, interested in helping our community. Just message us if you meet this criteria and would like to join.
Please remember however, EMR GoodSAM Responders are not a replacement for Ambulance Paramedics.
WHAT GUIDELINES DO GOODSAM RESPONDERS FOLLOW ?…
All EMR GoodSAM Responders follow the Australian Resuscitation Council guidelines and recommendations for equipment usage, treatment, and resuscitation standards.
But please remember EMR GoodSAM Responders are not Ambulance Paramedics or a replacement for Ambulance Paramedics, and cannot operate to the level of Ambulance Victoria Paramedics. They are however a good first tier stop-gap to provide basic emergency life support until Ambulance arrival, being able to provide a good competent and confidence level of first aid by using personnel who are experienced in real life emergencies, CPR and defibrillation.
WHAT LIABILITY AND PROFESSIONAL INDEMNITY DO EMR GoodSAM Responders HAVE ?…
Emergency Medical Response carries a $2 million Professional Indemnity / Medical Malpractice and $10 million Public and Products Liability insurance coverage.
WHAT IF I WANT MORE INFORMATION NOW ON GOODSAM ?…
If you need more information on GoodSAM now, especially assistance on how to set up the free GoodSAM ALERTER APP, please see our GoodSAM Alerter Setup Guide.