Our Story
Emergency Medical Response is a Privately Held FREE Volunteer Community Pre-CERT/Ambulance Emergency Medical Care Service that provides FREE Medical Care to calls for help from community members in areas surrounding Bealiba, Dunolly, Moliagul, Tarnagulla, Emu, Archdale, Natte Yallock and Colac/Elliminyt that has been operating in Victoria for over six years now.
As a local rural organisation ourselves, we know how hard it is for rural event organisers to find all the money needed to run events and we are more than happy to provide Event First Aid, Fire and Stand-by Emergency Medical Response Services coverage at Market Days or Street Festivals from as little as $242.00 inc. GST / day for low risk events (subject to availability). Our solutions are ideal for any event with 100 or more people.
What Event Services do we offer?
We provide Event First Aid, Fire Protection and Medical Services, tailored to the requirements of each individual event.
Our resources include:
Emergency First Responders and Event Medics (EMTs) fully equipped with First Aid Kit, Defibrillators and Oxygen;
The latest equipment, including oxygen therapy kit, defibrillators, stair chairs, ECG's and stretchers;
Mercedes-Benz Sprinter stretcher capable Ambulances and 4WD First Response vehicles;
Fully functional Fire Tanker appliance with 3,000 ltr Water Tank;
Road Motorcycle and Trail Bike First Response vehicles.
Our Emergency First Responders and Event Medics can work at a range of different events and provide a range of different services. This helps reassure your spectators and participants alike just by being on-site and when necessary administer medical care and even save lives.
Our Event Medics provide more than "first aid". They are trained to manage a range of medical scenarios – from basic first aid to complex clinical interventions. Our medics will therefore manage many medical conditions on-site which reduces the number of people being transported to hospital for medical attention.
Click here for EMR Event Services and pricing
First Aid Training
Emergency Medical Response delivers nationally recognised training in partnership with, and under the auspices of, Allens Training Pty Ltd RTO 90909. Tom Aczel, Instructor Number: 11006, is an approved provider to deliver the courses listed here (or their equivalent replacements) in partnership with Allens Training Pty Ltd.
EMR GoodSAM Responders
Basic life support while awaiting the emergency services saves lives! There are thousands of "Good Samaritans" around the world with these life saving skills – there might be someone less than a few hundred metres from you now who could help – if only they knew that help was needed. That's where the GoodSAM App comes in … download the GoodSAM Alerter from your App Store or Google Play now and register. The GoodSAM Alerter can be used by members of the public right across Australia and even while overseas.
Through the GoodSAM Smartphone app, trained first responders (who may be off duty) including doctors, nurses, firefighters, paramedics, medics, police officers and medical students can register to be alerted to incidents in their surrounding area and could be on scene within minutes. With a built-in Defibrilocator function, app users can also easily identify registered public access defibrillators.
Tom Aczel, Founder & CEO of Emergency Medical Response said: "GoodSAM is set to revolutionise our ability to get help immediately to a patient and improve outcomes. Harnessing the community for the benefit of the community. Effectively what the app does is enable someone to shout for help, really loudly – even through walls – so a responder in the car wash will know that the man in the coffee shop next door is having a cardiac arrest.
"Opening an airway and administering basic life support can save lives if done quickly enough and all around us are people who have these life-saving skills that could be put to good use in an emergency. These Good Samaritans can provide vital assistance until such time as the emergency services arrive on scene. GoodSAM automatically alerts the three nearest responders to the emergency."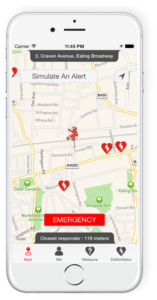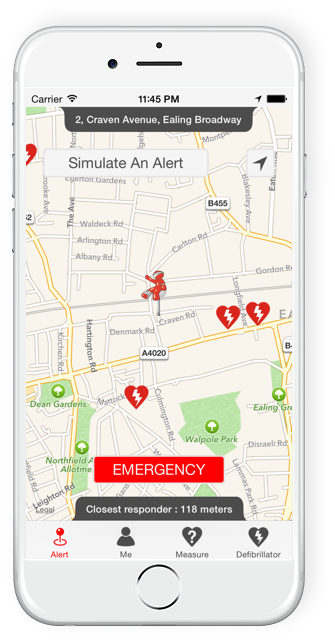 Emergency Medical Response is a registered Victorian GoodSAM organisation and our volunteers are GoodSAM Smartphone Activated Medics and Responders. If you are a doctor / nurse / paramedic / medic/ ACO/ EMT / first aid trainer / first aider, then please download the Responder App and register with us today!
When signing up as a GoodSAM Responder, please select your organisation if it is listed, if it's not, select Australia: Victoria – Emergency Medical Response and we will verify you.
What are Ambulance Victoria doing?
In collaboration with GoodSAM, Ambulance Victoria have already engaged their community of 1,100 trusted responders (mainly off-duty paramedics) that can be alerted to nearby cases of cardiac arrest, whilst the closest available ambulance, and in some areas firefighters, are also responded. Ambulance Victoria know that for every minute defibrillation is delayed, the chance of survival decreases by around 10%.
This initiative, in conjunction with Ambulance Victoria's Automated External Defibrillator (AED) Registry, aims to increase the provision of CPR and defibrillation prior to the arrival of emergency services by utilising nearby trained & trusted volunteers and registered publicly accessible defibrillators.
This model has been successfully implemented overseas in locations including London and parts of the UK.
It's very important to let all Victorians know that Ambulance Victoria are only using the GoodSAM Responder app. This means we still need your help to let all your friends and family know that they need to download the GoodSAM Alerter app and register.
So if they witness an medical emergency or need to get medical help quickly, they can just open the app, press the EMERGENCY (Call for Help) button and activate both Triple 0 services and their three nearest GoodSAM Responders without the delays of going through ESTA services first.
With the launch of Ambulance Victoria's GoodSAM program in Victoria, Triple 0 now also has access to over 2,000 existing privately registered GoodSAM Responders registered in Australia including all EMR GoodSAM Responders and alert them to their Triple 0 event.
So don't be surprised if you receive an alert that says Ambulance Victoria needs your help!
Meet our EMR GoodSAM Management Team
Emergency Medical Response is a registered Victorian GoodSAM organisation and our volunteers are GoodSAM medics and responders. There are already over 150 GoodSAM Responders in our group, and we're looking to register more Community First Responders!
Tom Aczel, Founder & CEO
Tom Aczel, CEO Emergency Medical Response, is an Electrical Fitter by trade, a former computer programmer, a First Aid Trainer, a GoodSAM Responder and on weekends works as a PAEIMA accredited Extreme Sports Medic & EMT providing Event First Aid Services.
Jasmine Aczel, Vice President
Jasmine Aczel is currently a Trainee Medic at Emergency Medical Response. Following on from her Dad's footsteps, she is currently studying a HLT41115 – Certificate IV in Health Care course at the NPT Heart.
Anthony Hann, Colac EMR Manager
Anthony Hann, a former MICA Paramedic (retired due to serious spinal injury – 1986 to 2016) with Ambulance Victoria in Colac, now heads up and manages our Colac EMR group of GoodSAM Responders.
He is the author of Photographic Guide of Prehospital Spinal Care (2005) and Chief designer of most Australian Ambulance Kits in use from 1996 to 2014 under the Brand Name NEANN.
Anthony also developed 'Patient Extrication Techniques' now taught and used widely in Australia & in numerous countries around the world.
Next Step…
There are already over 150 GoodSAM Responders in our group, and we are constantly looking to register more Community First Responders every day.
Sign up now …
Don't have any or current First Aid Certificates? No problems, we can help train you over two days so that you will hold these nationally recognised training qualifications:-